On this top 10 football record transfers of all time list, we have 9 player who belong to different countries. The different countries include France, Argentina, Portugal, Wales, Brazil, Sweden, Colombia, Uruguay and Spain.
10. Zinedine Zidane – Juventus to Real Madrid for £46 million
On 9th of July 2001, French International Zinedine Zidane signed for Spanish giants Real Madrid from Juventus for a record transfer fee of £46 million. That transfer broke the previous best of £37 million, when Real Madrid controversially signed Luís Figo from rivals Barcelona.
9. Carlos Tévez – Manchester United to Manchester City for £47 million
Carlos Tévez's transfer from Manchester United to rivals Manchester City is one of the most controversial and bitter transfers in the Premier League. On 14th of July 2009, Carlos Tévez signed a five-year contract with Manchester City for a record British transfer fee of £47 million. Tévez still remains Manchester City's highest transferred player, with his countryman Sergio Agüero second highest in £38 million.
8. Neymar – Santos to Barcelona for £48.6 million
Real Madrid offered a bid of £55 million to Santos for Neymar, but the Brazilian rejected the Madrid offer to join rivals Barcelona for £48.6 million. Here is the list of Neymar's total transfer financial breakdown.
Wages : £36.47 million
His Parents : £34 million
Santos : £16.6 million
Signing On Fee : £8.19 million
Collaboration : £6.55 million
Marketing : £3.31 million
Agents Fee : £2.24 million
Neymar Foundation: £2.07 million
Scouting : £1.66 million
The actual total transfer to sign Neymar from Santos to Barcelona was £109.19 million
7. Fernando Torres – Liverpool to Chelsea for £50 million
When Fernando Torres signed for Chelsea from Liverpool, that particular exchange broke the British transfer record previously held by Carlos Tévez. A deal was struck between the two clubs and the transfer fee of £50 million was agreed upon. This British record transfer is the 7th highest on this top 10 football record transfers of all time list.
6. Radamel Falcao – Atlético Madrid to AS Monaco for £51 million
In 2011, Radamel Falcao was in the news when Atlético Madrid signed the Colombian from Porto for £35 million (15th best record transfer). A couple of years later, AS Monaco came knocking on the door and coughed up £51 million for the forward.
Radamel Falcao's agent Jorge Mendes, is one of the most successful and richest agents in football history, as for every time a players gets bought and sold, he gets a % out of the sale.
5. Edinson Cavani – Napoli to Paris Saint-Germain for £55

On 16th of July 2013,Edinson Cavani signed a five year contract with Paris Saint-Germain. In 2012, Qatar Sports Investments (QSI) bought 70% of the shares in Paris Saint-Germain and now is the richest football club in France. With unlimited transfer budget, Edinson Cavani is the highest transfer for Paris Saint-Germain. That transfer record could be broken if Paris Saint-Germain buys Lionel Messi from Barcelona.
4. Kaká – A.C. Milan to Real Madrid for £56 million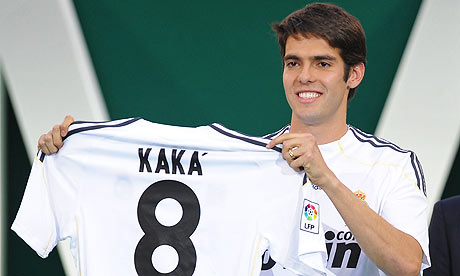 During the Galácticos era, if Real Madrid wanted a player they got the player, no matter what club he played for. The prime example is when Real Madrid signed Luís Figo from arch rivals Barcelona for £37 million. Times have changed since then and it is become difficult for Real Madrid to sign the players they want due to different investments pouring in top football leagues. The Galácticos will only be complete, if Real Madrid sign Lionel Messi and that is never going to happen.
On 3rd of June 2009, Real Madrid signed Kaka from AC Milan for a massive £56 million. Kaka failed to impress at the Estadio Santiago Bernabéu and returned to Milan in 2013.
creeps in on number five on this top 10 football record transfers of all time, but
3. Zlatan Ibrahimović from Inter Milan to Barcelona for £59 million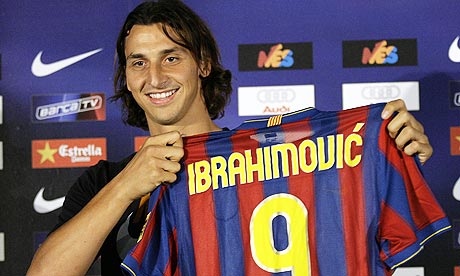 Zlatan Ibrahimović had scored 66 goals in 117 appearances and provided 32 assists when he was in Inter Milan. That record dint go unnoticed as Barcelona came knocking on Inter Milan's door for the Swed. On 27th of July 2009, Ibrahimović signed a five-year contract, with Samuel Eto'o going to the other way.
2. Gareth Bale – Tottenham Hotspur to Real Madrid for £77 million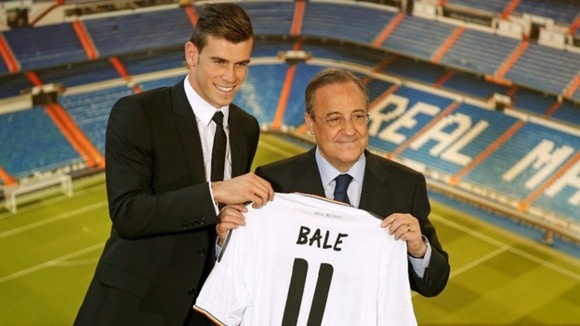 Real Madrid has been featured only once in this list of top 10 football record transfers of all time, but that number is going to change. On 1st September 2013, Real Madrid signed Gareth Bale for £77 million from Tottenham Hotspur and that was the second time a sum of over £75 million was paid for a player playing in the Premier League.
1. Cristiano Ronaldo Manchester United to Real Madrid for £80 million
On 1st September 2013, When Real Madrid signed Cristiano Ronaldo from Manchester United for £80 million, that broke the previous record transfer of Zlatan Ibrahimović (From Inter Milan to Barcelona for £59 million). Cristiano Ronaldo still remains the highest record transfer in the world of football.
The only player who would break this transfer record would be Lionel Messi, if he chooses to leave Barcelona.