The Premier League a.k.a EPL was formed 20th of February 1992 under the UEFA Confederation. The official name of the league is "Barclays Premier League" , which is sponsored by Barclays Bank. The EPL consist of 20 clubs who play two matches each (home and away) with 19 other clubs. The teams who finish in the bottom three of the league after 38 matches are relegated to the Football League Championship and every year three teams get promoted to the " Barclays Premier League" .
Here is the list of the Top 10 Barclays Premier League (EPL) Goal Scorers of All Time.
10) Robin van Persie – 129 goals in the EPL
(Arsenal, Manchester United)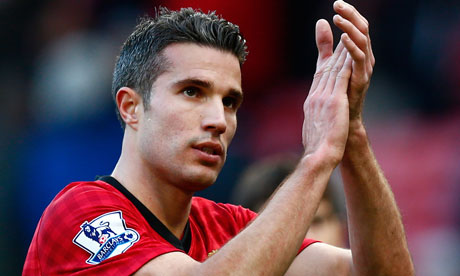 Arsenal signed Robin van Persie from Feyenoord for a mere £2.75 million, yes £2.75 million. It took the Dutchman until the 2009-10 season (where he scored 9 goals) to become the no.1 striker after the departure of Emmanuel Adebayor to Manchester City. While at Arsenal he won the FA Cup in 2005 where he scored in a penalty shootout and the 2004 FA Community Shield where he replaced Thierry Henry in the 46th minute. He dint score in that match, but Arenal beat Manchester United 3-1.
On August 2012, Robin van Persie was signed by rivals Manchester United for £24 million. He won his first Barclays Premier League with Manchester United during the 2012–13 season and followed up with his second Community Shield in which he scored twice to beat Wigan Athletic.
Robin van Persie has won two golden boots; one during the 2011–12 season with Arsenal and following season with Manchester United.
09) Teddy Sheringham – 147 goals in the Barclays Premier League
(Nottingham Forest, Tottenham Hotspur, Manchester United, Portsmouth, West Ham United)
A footballing career spanning over 25 years with five Premier League clubs, Teddy Sheringham has scored 147 goals in total. Teddy Sheringham has won the golden boot on one occasion during the very first EPL (1992–93) when he played for Nottingham Forest and Tottenham Hotspur.
08) Les Ferdinand – 149 goals in the Premier League
(Queens Park Rangers, Newcastle United, Tottenham Hotspur, West Ham United, Leicester City, Bolton Wanderers)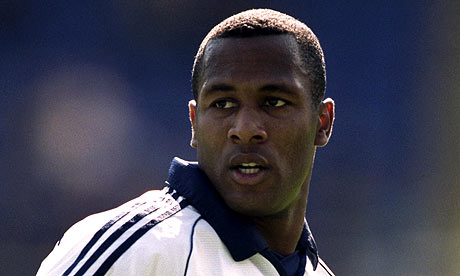 Les Ferdinand has scored 20 goals or more goals for three different clubs in the EPL. He has not won the FA Premier League, but came close on two occasions (1995–96, 1996–97) where Newcastle United were runners up to Manchester United.
Here is a video of Les Ferdinand scoring against his former club Spurs. His first for the Hammers.

07) Michael Owen – 150 goals in the EPL
(Liverpool, Newcastle United, Manchester United, Stoke City)
Michael Owen is Liverpool's 8th all time goalscorers of all time. With the Reds Owen has won the FA Cup in 2000–01,
League Cup in two occasions (2000–01, 2002–03), the FA Community Shield in 2001, the UEFA Cup in 2000–01 and the
UEFA Super Cup in 2001. Michael Owen won the prestigious Ballon d'Or in 2001 while playing for Liverpool and that made him the fourth English player to win it.Previous winners included Stanley Matthews for Blackpool in 1956, Bobby Charlton for Manchester United in 1966 and Kevin Keegan for Hamburg in 1978, 1979.
Unfortunately he did not win any trophy with Spanish giants Real Madrid as he failed to make an impact in his one year at the Estadio Santiago Bernabéu. Let me leave you with that incredible goal by Michael Owen when England played Argentina in the 1998 World Cup (France) Round of 16 and which was voted the 11th best goal in World Cup history.
06) Robbie Fowler – 163 goals in the Premier League
(Liverpool, Leeds United, Manchester City)
Robbie Fowler was one of the Spice Boys along with Steve McManaman, Jamie Redknapp, Robbie Fowler, Jason McAteer and David James. If you could pick a Spice girl to fit Fowler's persona, I would say Robbie Fowler would be "Sporty Spice". Fowler is currently number 5 in Liverpool's all time goal scorers, behind lengendary Liverpool players like Ian Rush, Roger Hunt, Gordon Hodgson and Billy Liddell with a total of 228 goals for the Reds in all competitions.
Here is Fowler controversially celebrating his penalty against rivals Everton in a Barclays Premier League (EPL) match by snorting the white line simulating cocain use. Liverpool fined Robbie Fowler £60,000 for his actions.
05) Wayne Rooney – 164 goals in the Premier League
(Everton, Manchester United)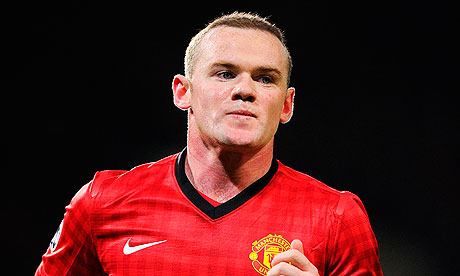 If you asked José Mourinho who are his top two English players that he wants(wanted) to sign he would name only two players; Steven Gerrard and Wayne Rooney. If he is not scoring goal, he helping the defense or assisting a goal for his team. Wayne Rooney has never won the "Premier League Golden Boot" but has come close on two occasions. The first was during the 2009–10 season with 26 goals (three short of Chelsea's Didier Drogba) and the other in 2011–12 with 27 goals (again three short of Arsenal's Robin Van Persie).
Here is Wayne Rooney scoring that brilliant last minute goal during the Everton vs Arsenal match which ended Arsenal's 30-match unbeaten run.
04) Frank Lampard – 169 goals in the Premier League
(West Ham United, Chelsea)
Frank Lampard is the only midfielder in this Top 10 Barclays Premier League (EPL) Goal Scorers of All Time and the only midfielder to score over 150 goals. Frank Lampard is Chelsea's all time top goal scorer with 208 goals in all competitions. Lampard also holds the 3rd place in Chelsea's All-time appearances with 628 appearances for the Blues.
Frank Lampard has won every top European trophy with Chelsea including the UEFA Champions League in 2011–12 where Chelsea beat Bayern Munich where Lampard scored the third penalty in a penalty shootout and UEFA Europa League in 2012–13. He has also won all forms of competitions in England.
He also has the record for EPL's all-time assists, with 171 assists in the League. Here is Frank Lampard scoring his 100th goal in Chelsea vs Huddersfield 3-1 victory in the FA Cup on 16th February
03) Thierry Henry – 175 goals in the Premier League(Arsenal)

Thierry Henry is Arsenal's all time top goal scorer, but he is on number 3 of this Top 10 Barclays Premier League (EPL) Goal Scorers of All Time. Henry has scored 228 goals in 376 appearances for the Gunners. The Frenchman has won the Premier League Golden Boot on four occasions; 2001–02, 2003–04, 2004–05, 2005–06, which is the highest by any player.
Thierry Henry was signed by Arsenal August 1999 for £11 million from Italian giants Juventus. That fee was kinda high, but Arsène Wenger wanted to re-join him in Arsenal. With Arsenal he won the Premier League on two occasians (2001–02, 2003–04), the FA Cup (2002, 2003, 2005) and FA Community Shield (2002, 2004).
02) Andrew Cole – 187 goals in the EPL
(Newcastle United, Manchester United, Blackburn Rovers, Fulham, Manchester City, Portsmouth)
If you talk about partnerships, then one of the best Premier League partnerships would be Andy Cole and Dwight Yorke. In January 1995, Manchester United broke their transfer record when they signed Andy Cole for Andy Cole for £7 million, breaking previous transfer record of Roy Keane's £3.8 million from Nottingham Forest.
Fun Fact : Andy Cole has won the the FA Charity Shield in 1991 when he played for Arsenal. He came as a substitute in the 79th minute to replace Kevin Campbell. The match ended in a 0-0 draw with Arsenal and Tottenham Hotspur sharing the trophy.
01) Alan Shearer – 260 goals in the Barclays Premier League (EPL)
(Blackburn Rovers, Newcastle United)
Alan Shearer has scored a total of 260 goals in the Barclays Premier League, 73 goals more than number 2 Andy Cole. If there is one player who can beat Shearer's EPL record it would be none other that Luis Suarez from Liverpool. Unfortunately Alan Shearer hasn't won as many trophies like the other players. He has won only two trophies; the inaugural Premier League in 1994 and the Tournoi de France in 1997, where he scored against France in the 86th minute.
That's all folks. Hope you enjoyed this Top 10 Barclays Premier League (EPL) Goal Scorers of All Time.
Cheers!!