www.fiverr.com has a global rank of 1,060 and will soon break in to the three digit mark due to its growing popularity. Firverr is an awesome website if you're a freelancer and looking for some extra money. 23% of fiverr's Sellers are from the United States and its catching up in countries like India and Bangladesh. fiverr provides many services from Graphics & Design to Digital Marketing, Writing, Translation, Video & Animation, Music & Audio, Programming, Tech Business and beta reading. If you're new to fiverr then you might get lucky or there is a possibility of you getting scammed. One great thing about fiverr is, even if a Seller scams you or you're not satisfied with the work, fiverr offers you credit. If you're new to fiverr, this 10 ways will help you detect Seller scams.
01. fiverr.com Location Scam
A lot of Sellers on fiverr will claim that they are from the United States and scam you. The only way to find that out is to check out their local time on their profile page.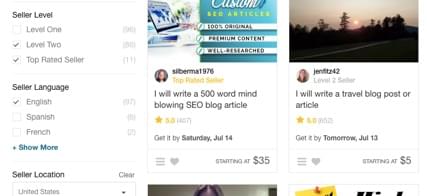 02. Fake fiverr.com Reviews Scam
You might find a Seller with a lot of reviews, but you need to carefully read the reviews. If the reviews are all one liners, then most probably its a scam.
03. fiverr.com Logos & Book Cover Design Scam
If you're looking for a logo or a book cover design you need to be very careful about scammers. When you browse through sellers, you might often find repeated designs, that is an indication that its a scam. Always google or check on amazon the book, as some Sellers just copy the design of random books and logos, claiming its their work.
04. The overview section
Always go through the overview section and compare what the Sellers work put up for display vs actual reviews (if not fake), you will clearly see the difference.
05. Too Cheap Packages Scam
There is a saying, if its too good to be true, it is too good to be true. If an average price for a service is $100 and if someone is offering you the same service for $5, it is most probably a scam. You might get lucky sometimes, but most of the time its a scam.
06. Sellernames
There are some instances that Sellers will impersonate any random or well known Seller from the internet. The only to find this out is to google the name.
07. Profile Picture Scam
Remember the Nigerian prince email scam? They are making a comeback on fiverr.com. One common example of this you will find on fiverr.com is a Seller from Nigeria who will have someone else's profile pic.
08. Qualification Scam
Some Sellers state that they got their degree from certain elite colleges, but they would find it difficult to construct a sentence. Ask questions and listen to what they have answered. You your judgement.
09. Negative Reviews
One of the most effective way to spot scammer is viewing their "Negative Reviews" who are most probably the victims. Even if the total star rating is around 4.8, the first thing you want to do is to look at the negative reviews.
10. Promise Something Unrealistic
One basic example is when a Seller says, it will advertise to over 30 or 40 million Sellers. 99.9% of the time with these unrealistic targets, your product will get very less or no exposure at all.